The Minister of Budget and Economic Planning, Senator Abubakar Atiku Bagudu (CON), has emphasised the importance of planning to economic prosperity and called for constitutional provision for a joint planning board between the State and Local Governments for effective planning.
The Minister made this known in Osogbo on Thursday, at the closing session of the 22nd edition of the Joint Planning Board (JPB)/National Council on Development Planning (NCDP) meeting, hosted by Osun State.
The former Senator and Executive Governor in the wealth of his experience highlighted the importance of the interface between Commissioners of the States, Heads of States' and Local economic planning administration with the National level to create a meaningful resolution for the National Economic Council.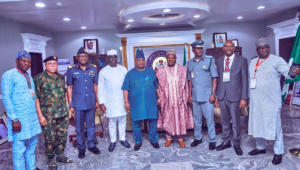 He then supported a resolution that Commissioners of Budget and Economic Planning should accompany Governors to the monthly National Economic Council meeting, to provide opportunities for Joint Planning Board meetings or interactions with the Ministry of Budget and Economic Planning.
He added that the theme "Imperative for Restoring Nigeria on the part of Sustainable Economic Growth and Development" was carefully chosen. He further stated that the intention is to restore and stabilise micro growth and economic development of the nation.
Senator Bagudu appreciated the virtual presence and support of the Vice President, Senator Kashim Shettima and the Governor of Osun State for the well organized 22nd JPB/NCDP meeting.
In his welcome speech, the host, Osun State Governor, Ademola Adeleke, called for collaboration between States and the Federal government, as the Country seeks way out of the current economic realities, saying unity would enable the Country to chart a course for sustainable and inclusive growth for Nigerians.
According to him, the opportunity of being the leader of Osun State administration to host such a gathering since the creation of the State, has provided a good platform to further strengthen Osun's partnership with the Federal Ministry of Finance, Budget, and Economic Planning which the government would leverage to engage with development partners for more benefits.
He added that the theme of this year's meeting could not be timelier. He then called National and 36 States to develop the resolution of meetings into tangible and implementable economy plan in the overall interest of the people.
The immediate past Minister of State for Budget and National Planing, Prince Clem Ikanade Agba in his presentation during the meeting, "Nigeria Agenda 2050 – a perspective plan designed to transform the Country into an upper middle income Country" claimed that a significant improvement in per capital income had already been identified for where the Nation will be in 30years time.
He further stated that the perspective plan aimed to fully engage all resources, reduce poverty and achieve economy and social stability for achieving a sustainable environment consistent with Global concern about the climate change.
Folasade Boriowo,
Director Information,
Budget and Economic Planning.