Vice President of the Federal Republic of Nigeria, Professor Yemi Osinbajo, has lauded the United Nations (UN)/ Nigerian Food System Dialogue, emphasising its importance in achieving the Sustainable Development Goals (SDGs).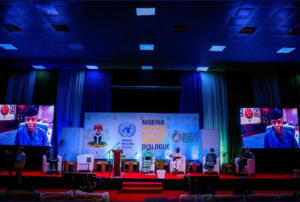 The vice president made this commendation while delivering his keynote address at the inception Dialogue of food system summit, organized by Federal Ministry of Finance, Budget and National planning in collaboration with the United Nations (UN).
He  stated that the dialogue was geared towards raising awareness as well as shaping global commitment towards mobilizing food systems to address hunger, reduce diet-related diseases and strengthen primary health.
He therefore stressed the need for an all-inclusive dialogue as outlined in the plan, adding that each member state of the UN was expected to organize three dialogues: Inception, Exploratory and Consolidatory.
This, according to him, would make the process as inclusive and participatory as possible. Osinbajo explained that the people mostly affected should be fully engaged; the already established five strategies carefully broken down and simplified for all to understand.
Earlier, the Honorable Minister of Finance, Budget and National Planning, Dr Zainab Ahmed, in her opening remarks said the Dialogue was organized in response to the UN Secretary-General's call on world leaders to take part in a Summit that would help to establish the future direction for food systems as well as accelerate collective action to that end. 
This, she reiterated, was in line with the fact that transforming food systems was pivotal in efforts to achieving all the 17 Sustainable Development Goals (SDGs) by 2030.
According to her: "In recent years, Nigeria has shown a clear commitment to the eradication of malnutrition.
"This is happening through the adoption and domestication of policies and coasted strategic plans, which emphasize increased reliance on domestic funding; and a well-coordinated multi-sectoral and multi-stakeholders approach (comprising government, CSOs, private sector and donors); backed by sustained high-level political commitment."
These plans, the minister enumerated, included:the National Strategic Plan of Action for Nutrition, the National Policy on Food and Nutrition, the innovative National Social Investment Programme (which includes the Home-Grown School Feeding Programme), the Basic Health Care Provision Fund, the National Council on Nutrition and the development of various food and nutrition sector plans.
Three presentations among others were presented by nutrition experts at the summit with titles:
1. Nigeria food system: challenge's, prospect and the way forward- by Dr victor Ajieroh
2. Ensuring Access to safe and Nutritious food for all- professor Sanusi Rasaki
 3. Shift to healthy and sustainable consumption patterns- Professor wasiu Afolabi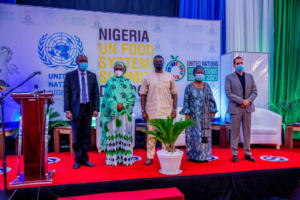 In his closing remarks, Minister of State, Budget and National Planning, Prince Clem Agba, said ʺwithout a doubt, food is life and has therefore become an instrument of national development. It is within this imperative and inescapable need for food that this inception dialogue takes a look at the issue in all its ramifications.''
 Agba said that "to
 ensure that our rural farmers are not just working to survive but working to grow and thrive, the Federal government recently approved the construction of 377 rural roads across 266 communities in order to guarantee a seamless transportation of farm produce from the hinterland to the cities and in that way drastically reduce post-harvest losses.''
He also said that the ministry would continue to encourage synergy and partnership, while appreciating development partners for their support.
Agba commended the Permanent Secretary of the Ministry, Mrs Olusola Idowu and other stakeholders for their commitment towards Nigeria's full participation in the Food System Summit and the success of the inception summit.
Imaobong Udoh
For: Director (Information)
BNP