Budget and Economic Planning Minister, Sen. Abubakar Atiku Bagudu,  has said that Nigeria will partner with Danida Sustainable Infrastructure Finance (DSIF)  of Denmark   government to explore investment opportunities  in energy, water, agriculture and waste for the Country.
The Minister stated this recently when the Ambassador of Denmark to Nigeria paid a courtesy visit to him in Abuja.
Sen. Bagudu pointed out that the visit of the Denmark government had come at a time when Mr. President had left the world with no doubt that he was a reformist  President, who had known the place of the private instruments and investment.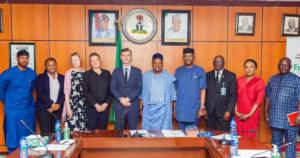 He further said that the drive of Mr. President round the world was a simple message to meet different groups and investors in other to double the GDP of the Country, in the shortest possible time.
Bagudu explained that the Ministry of Budget and Economic Planning was a unique organisation that was responsible for coordinating both Federal Planning and Sub-nationals.
He further stated  that one of the mandates of the  Ministry is to look into infrastructure sector development, where infrastructure project pipe-line could be marketed to investors or stored for possible funded.
Speaking earlier, the Denmark Ambassador to Nigeria, H. E.Sune Krogstrup, stated that Denmark was a committed partner to Nigeria that had a long standing relationship and a lot of engagement with the Country.
Krogstrup expressed hope that their first visit to the Vice President was a clear commitment by the Nigerian government to partner with Denmark in Green Transition economy and modality to strengthening the engagement within Nigeria and Denmark.
He also said that Danida Sustainable Infrastructure Finance (DSIF) was a key institution for providing finance in green transition which had many years of experience in support critical infrastructure in many African counties.
In her remark, the senior Vice- President of DSIF,  H. E. Tina Kollerup, collaborated the Ambassador's  statement that stressed that DSIF is the instrument that could provide financing for public infrastructure.
Mary Henshaw
For: Director (Information)