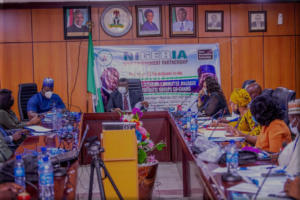 The Minister of State Budget and National Planning, Prince Clem Agba, has appealed to the National Steering Committee(NSC) of the Open Government Partnership(OGP) not to delay the implementation of the second action plan of the Open government partnership for better outcomes, considering that it was just one year left of the implementation cycle.
The Minister made this call recently, in Abuja, as he delivered his keynote address on the Day 2 of the Open Government Partnership week which was an interactive dialogue between the National Steering Committee and all the thematic working group co-chairs.
Agba pointed out that the change Covid-19 brought to the personal, social and working life affected the ability of the Working Groups to meet frequently as well as the way and manner in which they performed their duties of ensuring the implementation of the activities in the commitments of the NAP II.
He disclosed that the Independent Reporting Mechanism (IRM) of the OGP published a review of the implementation of the first National Action Plan which held that out of 14 commitments, Nigeria implemented three (3) which are ease of doing business, open budget and reviewing open government laws, nine (9) commitments saw limited implementation and two (2) were not started during the implementation period.
He further revealed some steps that would be taken by the NSC for better implementation of the NAP II as well as better performance assessment by the IRM, some of the steps are: the review of Quarterly Implementation Reports, Resolving issues highlighted in memos, direct intervention with the relevant MDAs when needed, peer learning from countries implementing similar commitments as Nigeria, among other steps.
Agba urged the committee not to use the pandemic as an excuse but do more to be ambitious with the goals and aim above the targets set in the National Action Plan especially as the action plan was extended by 1 year.
Speaking earlier, the National coordinator, OGP National secretariat, Dr Anne Nzegwu, disclosed that the second OGP National Action Plan had 16 transformative commitments drawn from 7 thematic areas namely: Fiscal transparency working group (FTWG), extractive transparency working group (ETWG), Access to information working group (AIWG), Anti-Corruption and asset disclosure Working group (ACAWG), Citizen engagement and empowerment (CEEWG), Inclusion and diversity working group AND Service Delivery Working Group(SDWG).
She further explained that the thematic working groups were designed to carry forward the implementation of the activities of the National Action Plan in various thematic areas thus contributing to the border objectives of the OGP in improving the lives of the Nigerian people through transparency, accountability and innovation.
Hassan Dodo,
Director, Information,
23/05/2021.