The government of the Republic of Germany has pledged 101.09m Eur. for development programmes in Nigeria.
The Minister of State, Budget and National Planning, Prince Clem Ikanade Agba, disclosed this at the bilateral negotiations meeting on development cooperation between the governments of the Federal Republic of Nigeria and Federal Republic of Germany, held recently, in Abuja.
Agba acknowledged the continuous support and interventions of the government of Germany in Nigeria as well as the cordial bilateral relations between the countries since Nigeria's independence, 61 years ago.  
The Minister added that the government of Germany had pledged one million COVID vaccines to Nigeria as part of its assistance towards combating the COVID-19 pandemic.
He noted that the donation would further help the Nigerian government succeed during health crises.
Agba further disclosed that the Nigerian government was in the process of publishing a new/mid-term Economic Development and Recovery Plan.
During the negotiations, both sides agreed upon three core areas of cooperation which are:
• Training and sustainable growth for 
decent jobs with a dual focus on (a) promoting a demand-driven vocational and educational training system and (b) on employers by supporting Micro/small/medium-sized (MSMEs) enterprises through training and access to financial services, promoting private financial investment opportuni
ties and promoting the digitalization of the economy. This also includes measures directed towards the reintegration of returning migrants as well as the promotion of a digital economy;
• 
A world without hunger with a focus on agriculture and food security; and,
• 
Responsibility for our planet – climate and energy with a focus on renewable energies and energy efficiency.
The summary record of the bilateral negotiations was signed by the Head of Nigerian delegation, Prince Clem Ikanade Agba, Minister of State, Budget and National Planning and Lars Wilke, Director, West Africa, Federal Ministry for Economic cooperation and Development, Bonn.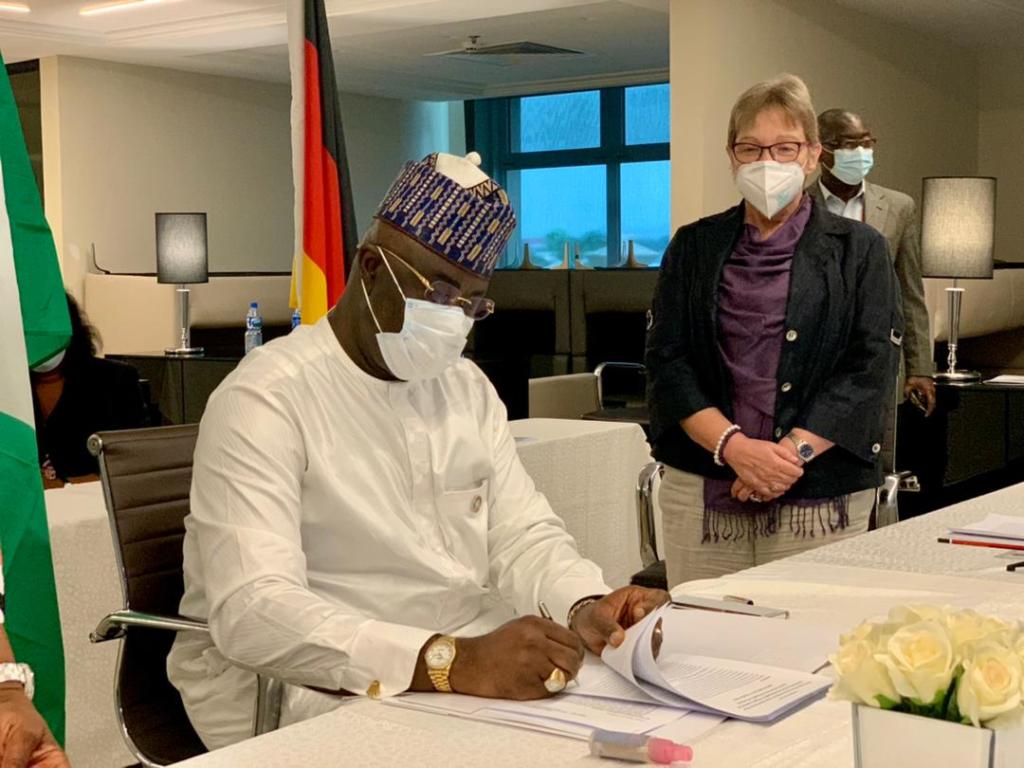 Also speaking at the event, Lars Wilke said Nigeria was a young nation by age and the prospects for higher economic growth existed due to a young population entering working age.
He said to make the best use of a demographic dividend, 
investments into the Nigerian education and health system were needed.
Lars further stressed that Nigeria was the biggest member state of the Economic Community of Western African States (ECOWAS); adding that without Nigeria,  a peaceful and prosperous development in Africa, especially western Africa was impossible.
The Deputy Head of Mission, German Embassy to Nigeria and ECOWAS, Abuja Helmut Kulitz also said at the event that "the fight for Independence was won 61 years ago but another fight for independence continues in Nigeria", namely: the fight for independence from fear, poverty and insecurity.  
IMAOBONG UDOH
for: D/Information
BNP
9/10/2021