President Bola Ahmed Tinubu has described the five sub themes of the ongoing National Economic Summit taking place at the Transcorp Hilton Abuja, as consistent with the Renewed Hope Agenda of his administration.
He emphasized that defending the nation from terror and all other forms of criminality that threaten peace and stability of our country; remodeling our economy for growth and development through job creation, food security, and prominence of women or youths in our government was a promise he intend to keep.
He therefore assured that government is committed to delivering improved livelihoods and positive economic outcomes.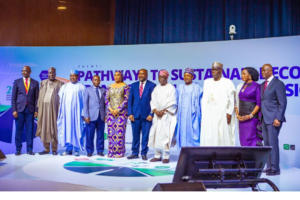 While speaking, the Minister of Budget and Economic Planning Sen. Abubakar Atiku Bagudu, emphasized that the Nigerian constitution's fundamental objectives anticipate cooperation between the public and private sectors, and that the development of short and long-term plans is a result of consensus between these sectors.
He commended the president for the recent institutional realignment of several ministries, particularly the Ministry of Budget and Economic Planning; saying this realignment has reinvigorated the Ministry and enabled strategic planning for improved economic activity and growth.
Senator Bagudu further announced that following approval obtained from the President by the Coordinating Minister of the Economy, the Ministry of Budget and Economic Planning has commenced the mid-term review of the National Development Plan 2021-2025, and it will incorporate the Renewed Hope Agenda and the 8-Point Agenda priority areas of President Tinubu.
He assured that the Ministry, in collaboration with other stakeholders, is committed to implementing these plans, including the Agenda 2050, as an irreducible minimum of commitment by all parties.
He concluded by emphasizing the need for policy linkage and coordination in budgetary and planning processes to ensure Nigeria progresses and delivers on the promises of the President. He therefore called for the active participation of all stakeholders.