The Minister of Budget and Economic Planning, Sen. Atiku Abubakar Bagudu has called on citizen to participate, interrogate and agree on consensus, as the key to development especially in a federation such as Nigeria .
The Minister made this revelation while receiving members of the Society for Family Health (SFG) on a courtesy visit in his office recently.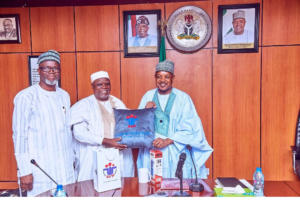 Sen. Bagudu explained that the Ministry's mandate include very clear Long, Medium and Short Term Development Plans, he called for synergy from stake holders such as the SFH in order to achieve objectives seamlessly.
He extolled the pioneering role of the SFH, saying their existence in Nigeria for 40 years speaks volume on the energy they have put into achieving the feats.
He therefore assured of more interaction with the SFH as their inputs could help the nation in achieving great results.
The Director of Social Development of the Ministry, Dr. Sanjo Faniran, informed that the Ministry has an extended opportunity to coordinate an initiative by the United Nations, "Food System Transportation Pathways in Nigeria" in which nutrition is a key component.
He therefore assured that in the course of implementation, the Ministry hopes to collaborate with the SFH for production and processing of healthy diets.
Dr. Faniran reiterated that President Bola Ahmed Tinubu has declared a state of emergency on food security; he therefore called on states to expand and include all relevant organizations such as the SFH on food system and nutrition policy.
On Social Protection, he informed that the Ministry is working towards launching the policy which was reviewed from 2020 to 2022 as approved by the Federal Executive Council.
The Managing Director, Dr. Omokhudu Ighodo, who spoke earlier, reaffirmed the commitment of the SFH to the Ministry as they hope to work closely with the Ministry's team in the shared ambition.