After a lot of processes and consultations have contributed to the development and review of the National Social Protection Policy(NSPP),  the Federal Ministry of Finance, Budget and National Planning in collaboration with the Joint UN development partners have convened in Abuja, today, to conduct a quality check and validate the Six-chapter revised NSPP document.
Social protection has recently become a veritable instrument in the African development agenda which Nigeria has embraced, therefore the revised document underlines that an all inclusive and
integrated social protection policy in Nigeria will address Poverty and economic vulnerability.
To this end, the Ministry, among other programs, held a webinar to enable stakeholders effectively understand the provisions of the NSPP and make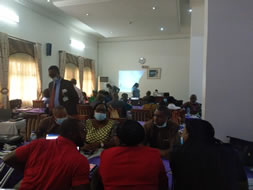 input into the revision process.
In his opening statement, the Director, Department of Social Development, Budget and National Planning, Mr. Omotayo Adeyemi, said "the exercise is now at the critical stage and quality assurance is expected. The essence of this gathering is to reflect, evaluate the outcomes and decisions reached…"
In his remarks, the Deputy Director, Social Development, Budget and National Planning, Dr. Sanjo Faniran, acquainted stakeholders with the road-map towards the final institutionalization of the policy to include: Getting feedback from Stakeholders and partners; Presentation of the document to policy makers, Ministers, Permanent Secretaries and MDAs.
Engagement with National Assembly and Governors' Forum for legal backing and institionalization of the policy; presentation to National Economic Council and the Federal Executive Council, would also be done, Faniran added.
Also speaking on behalf of the Federal Ministry of Humanitarian Affairs, Emergency and Disaster management, the National Coordinator of the National Social Safety Net Coordinating Office (NASSCO),  Dr. Apera Iorwa, commended participants at the summit noting that the exercise was their joint effort of working towards realising the vision of President Muhammadu Buhari's  commitment on running a people-centered government.
This commitment, Apera recalled, was earlier demonstrated when Mr. President established the National Safety Net Programme supported by the World Bank. That, provided the building block for Social Protection and signing the policy currently reviewed, Apera explained.
Imaobong Udoh
for:D(Information)BNP
31/3/21.