The Permanent Secretary, Budget and National Planning, Engr Nebeolisa Anako, has said that cassava bio-economy will bring higher GDP and reduce unemployment by significantly creating employment for the youths in Nigeria. Engr. Anako made this known in Enugu, during the pilot phase of the South East Regional Awareness and Sensitisation workshop on Strategic Implementation of the Bioethanol project.
Speaking, Anako said that cassava bio-economy was an untapped field, which would provide food for the country, starch and ethanol for industries, if tapped. His words, "One of the aspirations of the Federal Government is to bring about higher GDP growth and to significantly reduce unemployment by creating meaningful opportunities for the youths." "The bio-economic policy aims at promoting sustainable economic growth and development by creating a bio-based economy that will contribute to job creation, poverty reduction; increase access to food and energy.
"Developing cassava bio ethanol is a low hanging fruit. As you are aware, Nigeria is the world biggest producer of cassava and cassava has many value chain and products, ranging from food and industrial products like ethanol, starch etc. This is in line with the Food System Transformation PathWays of the United Nations with a huge chunk in delivering the SDGs 2030.
The Governor of Enugu State, Dr Peter Mbah who was represented by the Secretary to the State Government, Prof. Chidiebere Onyia, in his address said: "Eradication of poverty is a progress and it's multi-faceted. What this bio-entrepreneurship will do is to create new opportunity for the young people in Enugu State and Southeast to begin to explore other ways of wealth creation".
"It is a process and what we have started today supported by the Federal Ministry of Finance, Budget and National Planning, will create a new window of opportunities for us"
"We are going to set up business module that leads the type of product that we want, which will support productivity in this region and Nigeria. "And since we are talking export, we are also looking at long term of how this becomes a brand in terms of our productivity for our global economy." The Executive Governor of Ebonyi State, Rt. Hon. Francis Ogbonaya Nwizuru, who was represented by the permanent Secretary, Ministry of finance, Mrs. Mfon Williamson said that Ebonyi State had arable land and was known for rice, yam and cassava planting. He promised that the State would not only give cassava the attention it deserved but also make it an exportable produce including its value chain for job creation in the State. Other dignitaries who spoke at the event were: the Vice chancellor, Godfrey Okoye University, Enugu, the Very Rev. Prof. Aneke, representatives of cassava associations, Agric students and the consultant for the project, Prof. Ken Ife.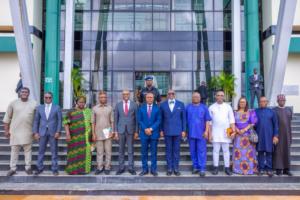 The Governor of Enugu State in the middle, Permanent Secretary of Budget and National Planning on his left side, Enugu SSG on the right side and other team members of PS entourage