The Minister of Budget and Economic Planning, His Excellency Sen. Abubakar Atiku Bagudu, CON has reiterated the commitment of the Ministry to strengthen Cooperation with the World Bank to reinforce the mandate of the present administration to reposition Nigeria's economy.
The Mi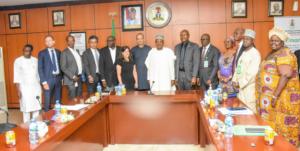 nister stated this during the courtesy visit by the World Bank Country Director in his office recently in Abuja.
He informed that the engagement between the ministry and the World Bank is mainly in terms of blended development assistance projects with grants from Donors especially, the European Union.
Bagudu further stated that other areas of cooperation, include technical assistance, executed projects, social development, economic development, pipeline initiatives, microeconomic analysis, international cooperation, and funding support.
In his remarks the Permanent Secretary Mr. Nebeolisa Anako said that the World Bank has been a very important partner of the Ministry and the country in general, adding that the Ministry will support in terms of collaborations.
In his remarks, the World Bank Country Director, Mr. Shubham Chaudhuri said that his focus is to work with government at the Federal and State levels in transforming the country, catalyzing private investment and job creation, and also investing in children and creating opportunities for Nigeria's youth and women.
Addressing the press shortly after with the Minister, Chaudhuri said, "For Nigeria, we have been supporting a wide range of programs, ranging from school projects, economic empowerment, and energy for rural areas, promising that the World Bank will increase its support to development programs in Nigeria.
Olatunji Modupe
Senior Information Officer
For: Director, Information (FMBEP)
31/08/23