Minister of State for Budget and National Planning, Prince Clem Ikanade Agba said that the Beneficial Ownership (BO) transparency was a proactive measure that could be used to stem corruption and acts of malfeasance in Nigeria's extractive sector.
Agba stated this on Tuesday, in a keynote address, delivered virtually at the national launch of the Opening Extractives programme in Nigeria hosted by the Nigeria Extractive Industries Transparency Initiative (NEITI) at the Transcorp Hilton in Abuja.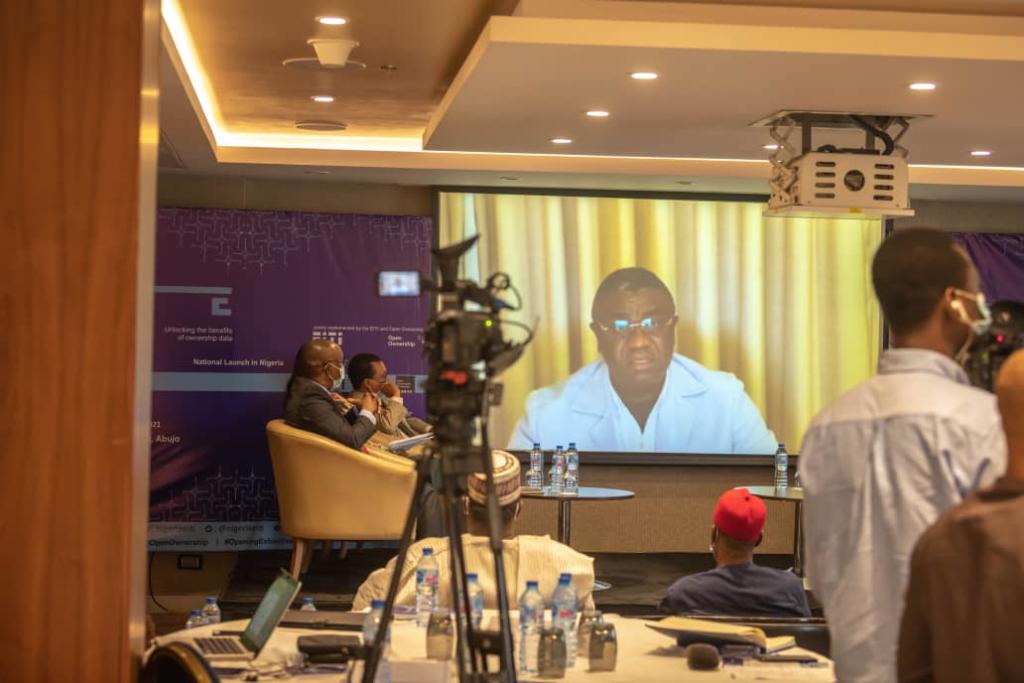 He said that Opening Extractives would further support Nigeria's inroads into beneficial ownership disclosures, pointing out that the Nigerian government was ready and willing to sustain and reinforce the progress it had recorded in the implementation of Beneficial Ownership disclosures "which is part of the ongoing reforms in the extractive industries."
While thanking the EITI, Open Ownership and BHP Foundation for considering Nigeria worthy of being one of the implementing pilot countries of Opening Extractives, the minister stated that NEITI had consequent upon the selection since 2013 developed the first sets of templates used to gather information and data on who the real owners of Nigeria's extractives assets were.
According to him: "It was a completely new area of work, for NEITI, very early in the day, identified Beneficial Ownership disclosure as a game changer in pushing the boundaries of transparency and accountability in our country's extractive industries.
"We viewed Beneficial Ownership transparency as a proactive measure that could be used to stem corruption and malfeasance acts in Nigeria's extractive sector. Recall also that at the time, the OML245-the Malabu Oil deal was on the front burner. By the time we were conducting the 2012 NEITI oil and gas audit, we had requested companies to disclose information on who their real owners were.
"As expected, we were confronted with numerous challenges and push-backs by some of the companies. There were delays in responses and, in some instances, non-completion of Beneficial Ownership (BO) templates by some of the companies.
"In other instances, some of the companies refused outright to fill the NEITI audit templates specifically designed for BO reporting. Other challenges that we were confronted with include: discrepancies between information disclosed in BO templates and information in Corporate Affairs Commission (CAC) documentation; we could not reach focal points of the companies because their records were not updated with current contact details and some companies that were owned by other corporate entities refused to produce further information on their parent companies."
He added: "However, three challenges stood against us like the rock of Gibraltar. They were the perception of the companies and other stakeholders that BO disclosure was some sort of witch-hunting; we were also aware that some politically exposed persons and senior government officials used surrogates to front for them and so it was difficult to track and most importantly, there was no statutory obligation or law mandating BO disclosure."
Agba noted that "eight years after, the above scenarios have changed," adding "I have taken time to chronicle Nigeria and specifically, NEITI's journey towards beneficial ownership transparency, so we can clearly comprehend how far we have come and how much progress we have made under the EITI and the framework of the Open Government Partnership, which I Co-Chair."
The minister said that Nigeria had made tremendous progress in institutionalizing beneficial ownership disclosure, pointing out that "we developed a road map that guided the development of a register of real owners of extractive assets and in 2019, launched a beneficial ownership portal which contains a register of all beneficiaries of the country's extractive assets."
According to him: "Knowing the real owners of the companies that bid for, invest in and operate Nigeria's extractive assets has practical implications for the economic growth, physical security and human development in our country.
"The Federal Government is aware and concerned that anonymous companies remain the major obstacle in the fight against money laundering and corruption. They enable corrupt and criminal actors, often with close political connections, to hide behind the chains of companies registered in multiple jurisdictions, to deny the Nigerian citizens of the benefits they should derive from their common wealth.
"Government believes that access to quality beneficial ownership information and data has the capacity to strengthen accountability and transparency which will invariably improve governance of the energy and mining revenues, support businesses, curtail corruption, stop illicit financial flows and help fight insecurity."
He continued: "We did not rest on our oars. Last year, President Buhari signed the new Companies and Allied Matters Act 2020 into Law. The CAMA2020 gives legal backing to the Corporate Affairs Commission to request entities doing business in Nigeria to mandatorily disclose persons with significant control or stake in companies.
"The Law also enables CAC to collect and publish the information on beneficial owners so disclosed by the Companies in a register of beneficial owners and stipulated sanctions for infractions. By the provisions of this Law, Nigeria thus institutionalised beneficial ownership reporting, thus progressing from our experimental stage in 2013 to having a Law on BO disclosure in 2020.
"In another landmark achievement and commitment to transparency and accountability in extractive resource management, President Muhammadu Buhari in August this year, assented to the Petroleum Industry Act (PIA), ending over two decades of agitation for a reform of the legal framework for Nigeria's petroleum sector.
"Specifically, Section 7 of the PIA mandates the Nigeria Upstream Regulatory Commission (NURC) to keep a public register of beneficial ownership of licenses, leases, permits etc. granted by the Minister of Petroleum Resources.
"These two very important Laws are being implemented now in Nigeria and will bring about the much-needed fervor in Nigeria's fight against corruption and overall reforms of the extractive industries."
The minister said that "beaming the searchlight on who owns Nigeria's assets will help government to prevent revenue leakages and maximize domestic resource mobilization in order to improve the living standards of our people through the provision of roads, quality healthcare services, education and general upgrade of infrastructure.
"Opening Extractives is expected to support the Nigerian government to strengthen its management of the nation's natural resources, increase trust within the extractive sector and ensure that the benefits of natural resource wealth is felt by majority of our people."
He described Opening Extractives as innovative, very timely, and coming at a time when Nigeria had commenced the implementation of the Petroleum Industry Act.
"As we speak, the Petroleum Industry Act Implementation Steering Committee comprising critical stakeholders, one of which is NEITI, has settled down to work to ensure that the right framework is put in place for the implementation of the many provisions of the Act.
"Already, the NNPC has been incorporated as a limited liability company, while the Governing Boards of the newly-created entities- Nigeria Upstream Regulatory Commission (NURC) and Nigerian Midstream and Downstream Petroleum Regulatory Authority (NMDPRA) have been inaugurated."
He urged all stakeholders in the extractive value chain to collaborate with Opening Extractives and its partners to improve the governance of Nigeria's extractive sector which would definitely impact the quantum of revenues accruing from the sector to the Federation.
Agba declared that "with Nigeria's participation and strong support to the global launch of Opening Extractives two months ago and the domestication of the programme in Nigeria today, the federal government has show n its determination and resolve to imbibe and implement the principles of Opening Extractives.
"From the plan laid out for the programme, in the next five years, government, companies and civil society actors should have greater access to and use of comprehensive and reliable information about the ultimate owners of extractive industry companies, facilitated through Opening Extractives."
In his welcome remarks on the occasion, Executive Secretary of NEITI, Dr Orji Ogbonnaya Orji, said Opening Extractives was a global programme designed to support national governments and stakeholders to deepen beneficial ownership transparency and reforms in their respective countries.
Orji commended the global Extractive Industries Transparency Initiative (EITI) and Open Ownership for initiating the programme.
"Our gratitude also goes to other participating countries, bilateral and multilateral organisations especially BHP Foundation for their commitment and financial support to the implementation of Opening Extractives in about 9 resource-rich countries to the tune of $7.2 million over the next five years," he stated.
He said that it was gratifying that governments and organisations in both developing and developed countries were coming together to strategise on how best to lift the veil of secrecy over the ownerships of extractive assets of resource-rich countries.
"I am glad to note that beneficial ownership transparency is now a global norm and Nigeria cannot afford to be left behind given our history and experiences in the fight against corruption, insecurity, terrorism financing, money laundering and illicit financial flows." Orji stated.