The Honourable Minister, Budget and Economic Planning, Senator  Abubakar Atiku Bagudu, has advised the leadership of United Nations Office On Drugs and Crime in Nigeria, UNODC to strengthen its relationship with the Ministry and involve relevant government MDAs in the monitoring of its various developmental initiatives.
Bagudu maintained that carrying relevant government agencies along would ease the process of implementing UNODC funded interventions and would also facilitate effective reporting on the activities of the Organization.
The Minister expressed these views during a Courtesy Visit by officials of UNODC, to his office on Tuesday, in Abuja. He affirmed that there had been remarkable collaboration between UNODC and the Ministry in the implementation of programmes funded by the European Union in the areas of Migration Governance, Anti-corruption, Drug Prevention, Treatment and Control, Justice Sector Reform and Counter-Terrorism.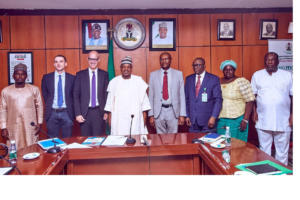 Bagudu further listed some past interventions  by UNODC in Nigeria to include: provision of Better Management of Migration in Nigeria by Combating and Reducing Irregular Migration (2011-2018) with a total budget of 20 million Euros, funded under the 10th European Development Fund;
Also, Support to Anti-corruption in Nigeria implemented from 2011 – 2017, funded under the 10th European Development Fund; Response to Drugs and Related Organized Crime in Nigeria Project implemented from 2012 to 2022, funded under the 10th European Development Fund ; and Support to Justice Sector Reform in Nigeria implemented from 2012 to 2017, among others.
In his remarks, the Permanent Secretary, Budget and Economic Planning, Mr. Nebeolisa Anako, stressed the need to collaborate more and be acquainted with the work plan of the EU such that the federal Ministry of Budget could be able to incorporate work-plan into its schedule of activities to ensure seamless synergy.
He added that this would also ensure that activities were carried out to achieve the mandates of the Ministry and the vision of the Honorable Minister for judicious allocation of government resources.
The Director of International Cooperation, in the ministry, Dr Lanre Adekanye, expressed satisfaction with the current collaboration between the federal government and UNODC , expressing hope that the relationship would continue and further be strengthened for the overall benefit of Nigerians.
Speaking earlier, the UNODC Country Representative in Nigeria, Oliver Stolpe, sought the cooperation of the  Minister within the context of UNODC 2030 Strategic Vision for Nigeria and other activities of the UNODC. He noted that the UN Office had over the years championed international support to Nigerian States in the area of anti-corruption, counter-terrorism and the prevention of violent extremism, drug prevention, treatment and control.
According to Stolpe, the international body had also played integral role in Nigeria's fight against organized and maritime crime, action against trafficking in persons and smuggling of migrants, justice sector reform, the prevention of HIV/AIDS in prison settings and related to drug use, as well as crime prevention through education.
OLUDE OMOLADE
INFORMATION OFFICER
FOR: DIRECTOR, INFORMATION (BNP)
05/09/2023