The Minister of Budget and Economic Planning, Sen. Atiku Abubakar Bagudu has extolled the United Nations System in Nigeria as a system that helps in sharing global prosperity. He revealed that the system has recorded significant successes in Nigeria in the assistances they offer.
The Minister made this known while receiving the UN Resident/Humanitarian Coordinator, Matthias Schmale, and his delegates on a courtesy visit in his office recently.
While speaking on the Sustainable Development Goals (SDGs), the Minister recalled that the UN has been highly involved in the Nigerian system in providing technical assistance and mobilization for a long time. He therefore called for support as the UN represents the global body.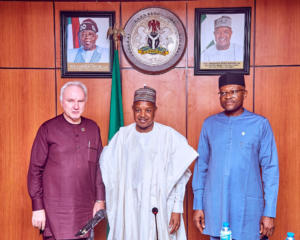 He also called on the United Nations assistance for more resources 'as we have hard working men and women who are seeking inclusion,' he said this could help reduce emigration, violence and some issues faced in Nigeria. He however assured the Resident Coordinator of his cooperation to work together.
The Resident Coordinator, Matthias Schmale, who spoke earlier, brought the Minister to speed on the activities of the Ministry with the UN, he intimated the Minister of an initiative funded by the European Union 'The Spotlight Initiative' where the Minister is a Co-Chair.
He called on the Minister to peruse the content of the 'UN Sustainable Development Framework'; call for a meeting of the Steering Committee which is consisting of other Ministers if he deems it necessary and organize a meeting of the Steering Committee of the Spotlight Initiative.