To facilitate the implementation of President Bola Ahmed Tinubu's Renewed Hope Agenda, the Federal Executive Council (FEC) has assured Nigerians of trhe speedy passage of the 2024 Budget.
This was made known in a press briefing held after the FEC meeting yesterday, chaired by Mr. President in Abuja.
Fielding questions from State House Correspondents after the Federal Executive Council, the Minister of Budget and Economic Planning, Senator Abubarkar Atiku Bagudu , said that.
the 2024 National Budget will be prepared in good time, passed and signed before the 31st December 2023.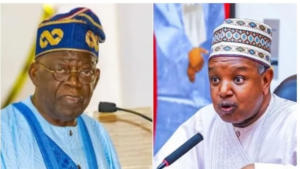 The Minister also revealed that the Federal Executive Council considered the Medium-Term Expenditure Framework as well as Fiscal Strategy Paper among other Memos. He informed that 73.96 oil production of 1.78million barrels/day is assumed; an exchange rate of N700/$; Inflation of 21% and a GDP Growth of 3.76%.
Bagudu further affirmed that "The aggregate expenditure was estimated at N26.01tn for the 2024 budget, which includes statutory transfers of N1.3tn non-debt recurrent expenditure of N10.26tn, Debt service estimated at N8.25tn as well as N7.78tn being provided for personnel pension cost," he said. According to him, the proposal would be submitted to the national assembly before December 31, 2023.
He noted that the administration of Tinubu would maintain the January – December budget implementation cycle but clarified the increased debt service saying " it is because N22.7tn Ways and Means was securitized, meaning it became a federal government debt at nine per cent."
Olude omolade
For; Director Information