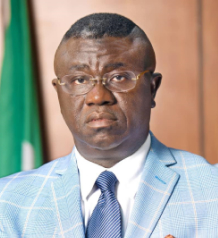 Prince Clem Agba
Hon. Minister of State Budget and National Planning
Prince Clem Ikanade Agba was born on March 28, 1964 to the family of His Royal Highness, Pius Kadiri Ikanade Agba, the Oliola of Uzanu. Regardless of his noble background, he grew up without putting on airs and graces. He attended Saint Vincent Primary School, Auchi and Saint John's Grammar School, Fugar. He thereafter attended the then Bendel State University, now Ambrose Alli University, Ekpoma and graduated with a B.Sc Economics degree in 1985. He also acquired two Masters Degrees in Business Administration, the first from the University of Benin, specializing in Management and the second from the Arizona State University, Tempe, Arizona, USA, specializing in Supply Chain Management.
Clem's work experience took him from Pegasus Industries Limited through Super Engineering Limited to Chevron Nigeria Limited where he retired in 2019 to join the public service and politics. While in the private sector, his quest for professional excellence blossomed such that in 1996 he was seconded to the Chevron Oil Corporation in Houston to deliver his expertise in Shipping to corporate growth. Ten years later, in 2006, he was again called upon to deliver on another top-class assignment in Kazakhstan, where he was seconded to Chevroil Tengiz to superintend over a massive logistic chain with about 1600 workforce. Clem's brilliance, inventiveness, charisma, discipline, sound work and professional ethos have endeared him to many in both the private and public sectors. He has earned a reputation as a
change agent; a proactive, result-oriented mobilizer; mentor and achiever.
In recognition of these attributes and his unwavering commitment to service and development of society, Comrade Adams Aliyu Oshiomhole invited him to join the Edo Rescue Team as a member of the State Cabinet in 2009.
He served as Commissioner in the Edo State Ministry of Environment and Public Utilities from January 23, 2009 to July 25, 2010, where he displayed strong leadership and brought in new momentum to governance. On July 26, 2010, Clem was redeployed in the Ministry of Lands, Survey and Housing as Commissioner to engage with a new challenge. He hit the ground running and initiated some fundamental reforms, including the setting up of the Edo State Geographic Information Services (EGIS), within a record time of five months he supervised the ministry before he was re-deployed back in the Ministry of Environment & Public Utilities on December 2, 2010.
On expiration of his leave of absence granted by Chevron to enable him serve the government and people of Edo State, Clem returned to the company in September 2012 as Manager, Community Procurement Operations, but only for a short time as he was once again called to the service of Edo State Government as Commissioner for Environment and Public Utilities on March 8, 2013. This time round, he doubled as a member of Edo State Economic Team.
As Commissioner for Environment and Public Utilities, Clem provided leadership in the urban renewal and drainage infrastructure drive of the Governor Adams Oshiomhole-led administration, which included beautification; greening of the streets, planting trees and ensuring that the state capital had functional street lights. He played a pivotal role in finding solution to Edo State flood and erosion challenge-a robust storm water project to address the problem of erosion in Benin City. It was a breakthrough that came more than 30 years after the last major storm water project was done in 1979.
This significant project was in addition to the evacuation of the notorious Costain Isonorho dumpsite in just five days; that was a problem that had overwhelmed over five governments (both military and Civilian) for over two decades. During the same period, he successfully increased the State Forestry Nursery capacity from Two Hundred Thousand (200,000) to Six Hundred and Fifty Thousand (650,000) trees with the objective to ensure sustainable Forest Regeneration.
In December 2016, after eight fulfilling years of delivering excellent service to the government and people of Edo State, he returned to Chevron Nigeria Limited as a member of the Supply Chain Management Leadership Team as head of its Transport and Travel Department.
Clem was appointed on August 21, 2019 as Nigeria's Minister of State for Budget and National Planning by His Excellency President Muhammadu Buhari. Since assumption of office, he has focused on national planning, early budget submission to the National Assembly and strengthening the Department of Monitoring and Evaluation in the Ministry in order to effectively drive the National Monitoring and Evaluation process. He has brought in a renewed focus on transparency and accountability, especially in the engagement of Nigerian citizens both home and in the Diaspora in the three focus areas. He, currently, doubles as the State Co-Chair for the Open Government Partnership (OGP) and represents Nigeria in the International OGP steering committee as member.
Clem's unquenchable desire to express love to the underprivileged in the society led to the formation of The Clem Agba Foundation (TCAF), which he co-founded. The Foundation was formed as a Special Purpose Vehicle for philanthropic activities but with a primary focus on the education, enlightenment, testing and treatment of the different strains of Hepatitis, to wit: A, B, C, D and E and their associated ailments, especially Hepatitis B and C. TCAF also collaborates and synergizes with like-minded organizations and individuals to help in research, treatment and alternative medicine approach to find solutions to this scourge that is ravaging not only Nigeria and Sub Saharan Africa, but also several other places around the world. Till date, TCAF has organised Hepatitis Awareness Programme, Screening and Vaccination for over 5,000 persons in Edo and Lagos States.
Clem has received several awards and recognition. Most significant of these was on December 4, 2013, when he was admitted and inducted into the Advisory Board of the Eternal Sacred Order of the Cherubim and Seraphim (ESOCS) Church, the highest decision-making body of the ESOCS Church. This was in addition to the National Award of Excellence in Leadership as the most outstanding Commissioner for Environment in Nigeria bestowed on him earlier in the same year.
He is a Professional Fellow of the Institute of Corporate Administration, Fellow of Nigerian Environmental Society and a recipient of the Save-the-Ozone Award of Excellence in Environmental Management. He was awarded the Diversity Ambassador by Chevron Nigeria Limited. He was also given awards by the Uneme National Development Union, Uzanu Progressive Union, Auchi Allied Association and many more. Clem has also been honoured as the Ofewosi of Uneme Land. These honours were in appreciation of his numerous philanthropic gestures and charitable projects to his immediate community, which include the provision of electricity, healthcare facilities (clinics and maternity), water projects, school rehabilitation,
other infrastructure amenities and scholarships to indigent but well-deserving students.
Clem is happily married to the beautiful, dutiful and hard-working Catherine, a scion of the famous Gaius-Obaseki family of Benin City. This wonderful union with Catherine is blessed with four young men who, in their own rights, have started making impact in the society.
Connect with the Honourable Minister via the following social media platforms:
Twitter: @ClemAgba
Facebook: Prince Clem Ikanade Agba
Instagram: @ClemAgba